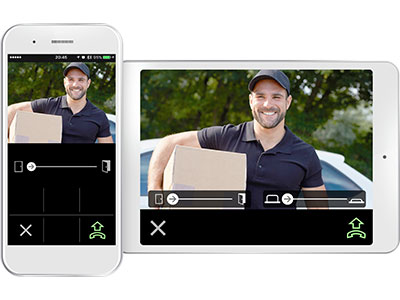 Intercom App Type B - Mobile APP Virtual Expansion Station
Components
The best of both worlds!
A call from your video doorbell rings an on-site monitor up to eight smartphones or tablets with the app installed. After answering the call, you can see and speak with your visitor then easily unlock the door using the slider button on the app.
This mobile app establishes a connection with your video doorbell while you're on the go. Answer your door, see and speak with visitors from virtually anywhere. If a call is ever missed, the hard wired master stores recordings which can be viewed with through the app.
All this security and convenience is backed by Aiphone's quality and award-winning customer support. Our commitment to your satisfaction is equivalent to our commitment to supplying quality products. Second to none.
Use Aiphone when you need unparalleled product quality. Use the JO Series when you need on-the-go security and convenience in a single package.
Features
Receive calls from your video doorbell for on-the-go security and convenience
Talk to visitors from virtually anywhere
Works with a variety of smart devices like mobile phones and tablets
Video doorbell rings up to eight devices
Activate the video camera in your door station
View recorded calls with your wireless device
Enhance home security systems
See and talk with visitors before granting them access
In-app door release uses a sliding button to prevent accidental unlocking
---
Specs
Max installs per JO System
Slider activates dry contacts on JO-1MDW on-site monitor
Download Minimum Bandwidth
Upload Minimum Bandwidth:
---